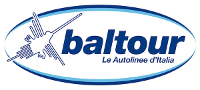 Baltour can boast 50 years of experience in both long distance and short distance bus services. The company represents the largest Italian bus network and its schedule includes bus routes to, from and within 17 regions in Italy with a special focus on bus routes running along the Adria coast. In addition, Baltour is part of the European bus network Eurolines, which allows the company to serve bus stops in 23 European countries. In Teramo, where the Baltour offices are situated, the company also operates local public transport. At the moment, Baltour is serving bus stops in 228 cities and offering 10586 individual bus connections.
Insider-Tips:
A
suitcase
and
hand-luggage
can be taken on board
for free
. In the category
"LOW COST"
costumers can find
extra cheap tickets
starting at $1.
Changing the reservation
is possible for an additional fee of $4 – except for tickets booked for the connection Rome-Siena.
Children
from the age of 14 onwards can travel alone on Baltour if they have available a written consent form signed by their parents.
Info: Baltour launches a partnership with FlixBus starting November 13, 2018. Customers benefit from more connections and convenient online booking from FlixBus.
More information about the bus amenities and services of the bus provider Baltour
free:
WiFi on Board

Restrooms

Air-conditioning

Compartments for hand-luggage

Luggage transportation
extra charges:
Bulky luggage transportation

Pets allowed