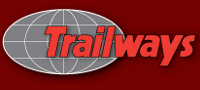 Originally founded as National Trailways Bus System (NTBS) in 1936, the Trailways Transportation System (often known as Trailways) is a large bus association of over 70 independent bus companies throughout the US and Canada. Unlike other major bus companies, which operated with centralized ownership, Trailways started its network with approximately 100 company members that were both competitors and partners on a common brand licensing. During the 1950s and 1960s four original Trailways members forged into a new bus company called Continental Trailways that operated most of Trailways' bus routes from that point onwards. It was later acquired by Holiday Inn in 1968. In 1987, Greyhound purchased Continental Trailways, which largely enhanced its competitive power against NTBS. Soon afterwards another two members of the Trailways system were merged by Greyhound Lines and the majority of the remaining bus companies became charter buses. Therefore, Trailways members provide three major types of bus services today, namely the regular scheduled bus routes across cities, charter bus rentals as well as bus tours. In order to maintain competitive on the Northern American bus market, some of the Trailways bus companies also offer bus routes that are not covered by others.

Trailways has become a giant bus network, covering over 40 states of the USA and some major parts of Canada, serving 183 bus connections in 88 cities.

Insider-Tips: Trailways bus service is provided by independent bus companies in North America. Therefore, they offer a huge variety of services and operate a numerous different vehicles. For instance, riding with Trailways Travel, passengers can enjoy these amenities: satellite, TV, DVD Players, AM/FM radios and PA systems. Plus, since some members are affiliated with Greyhound, such as the famous Trailways of New York, passengers are able to board their buses with a Greyhound ticket as well. Other charter bus services like Burlington Trailways additionally provide magazine boxes, wheelchair lifts and even a kitchen!
More information about the bus amenities and services of the bus provider Trailways
free:
WiFi on Board

Restrooms

Power Plugs

Air-conditioning

Compartments for hand-luggage

Luggage transportation
Popular Trailways Routes
Trailways offers bus connections all across New York State, to cities like New York, NY, Syracuse, Rochester and Buffalo as well as cross-boarder and interstate connections, to cities like Montreal or Ridgewood, NJ.