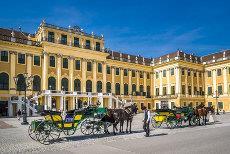 Experience the magic of Austria's unique landscapes where spectacular views on
snow-capped mountains
, historical buildings and diverse attractions are awaiting you. The
Alpine Republic
is not only the perfect destination for sportspeople in winter, it offers interesting activities for travelers all year round!
Enjoy the peaceful atmosphere while walking along the mountain trails or challenge yourself by climbing one of the 3,000 meter peaks if you're looking for some more action. And afterwards, refresh yourself in one of the many lakes across the country. Of course the former royal and imperial Austria can boast abundant cultural experiences as well: Walk on the trails of Sisi, Austria's "fairytale princess", learn how to dance the Viennese Waltz or visit the famous Bregenz Festival on the lake. Don't forget to go on a bus trip to the capital Vienna – Sacher cake, the renowned Museum Complex and authentic coffee house culture are waiting here! Furthermore, you can gaze at digital arts at the Ars Electronica Festival in Linz, try the local delicacy "Mozartkugeln" in Salzburg and enjoy excellent Austrian wine wherever you go. The small country in the heart of Europe attracts travelers of all kinds with its variety of offers, so grab your bags and visit Austria!
Going by bus offers you comfortable, easy and quick travel options at affordable prices to Austria and throughout the whole country. You can for example travel to Vienna, Innsbruck or Salzburg. Find your cheap ticket on CheckMyBus and you will get the best trip for you in the blink of an eye. Just type in your favorite destination and your next trip to Austria is a few clicks away! If you're on a trip through Europe, a visit to Austria is highly recommended: The country shares borders with Germany, Italy and many other attractive travel destinations. Check the bus schedules for interesting bus routes to Austria, so that you can make the most out of your Euro trip! You can also have a look at the features of all bus companies: Find the bus providers who let you take your skis on the bus with you, allowing you to discover Austria's slopes in a fun way.
Popular bus routes in Austria
Cities with the most bus connections in Austria
More bus stations and bus stops in Austria
Austria - Even more bus trips to or from this country