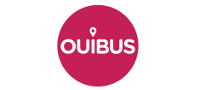 In September 2015, the French long-distance bus provider iDBUS changed its name to
OUIBUS
. The bus company was part of the French state railway SNCF and maintained connections to numerous other European countries in addition to lines within France. The route network in France included major cities such as Paris, Toulouse and Lyon and smaller destinations such as Bordeaux, Strasbourg or Tours. In November 2018, BlaBlaCar, the largest carpool platform in the world, made an offer for OUIBUS venturing into the long-distance bus business.
Info: The carpool company BlaBlaCar took over the provider OUIBUS from the French state railway SNCF.
From June 24th 2019, OUIBUS started operating under the name BlaBlaBus.
More information about the bus amenities and services of the bus provider Ouibus
free:
Compartments for hand-luggage

Luggage transportation