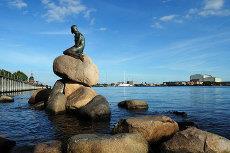 Whoever thinks that sandy beaches and perfect holiday destinations can only be found in southern parts of the world, has never been to
Denmark
. Its coastline features some of the widest sandy beaches in Europe as well as spectacular landscapes such as the
White Cliffs on Møn Island
or the seaside villages at North Jutland coast, such as Skagen and
Aalborg
, which are characterised by a very special light creating a particularly romantic atmosphere.
But Denmark has much more to offer than some of the most impressive landscapes in the whole of Europe. When you're visiting, a trip to the country's capital Copenhagen is definitely a must. For royal flair check out Amalienborg Palace, home of the Danish royal family. The complex consists of four identical palaces in rococo style. What should also be on your agenda is the Designmuseum Danmark, which features some of the most renowned works of applied art and industrial design of Scandinavia. For fun and entertainment, you might as well leave the city for a day and see Legoland, a fun park that is all about the little bricks toys. Roskilde Cathedral on the island of Zealand is a frequently visited Danish landmark as it inspired the success of brick style buildings in vast parts of Northern Europe. Every trip to Denmark should also include a short detour to the city Aarhus, which is regarded to be the happiest place in the world. Its close proximity to the Danish coast, to fjords and to cultural heritage sites such as the Viking rune stones at Jelling might explain why.
Denmark is part of many coach companies' network, which is why you can book inexpensive bus trips from many European cities. The bus connections are operated by providers including Eurolines Germany, FlixBus, IC Bus and Swebus. Check for bus connections to Denmark now and book your Scandinavian adventure!
Popular bus routes in Denmark
Cities with the most bus connections in Denmark
More bus stations and bus stops in Denmark
Denmark - Even more bus trips to or from this country