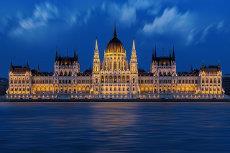 Planning a Euro-trip and not quite sure where to start? Why not
Hungary
? The central European nation is full of natural and metropolitan beauty. With prices being considerably cheaper than other European nations, your money will go much further. Despite being a landlocked country, Hungary's
Lake Balaton
is so massive, it almost feels like its own sea. The
Bükk Mountains
offer ample opportunities for hiking and skiing, while the
Hortobágy National Park
is home to water buffalo and Hungarian gray cattle.
No doubt, the most popular tourist destination is the capital city, Budapest. You can walk along the banks of the Danube River and cross the famous Chain Bridge which joins the former of cities of Buda and Pest. The city is full of charming cafés, where you can order a piece of delicious Dobus torte or visit a restaurant for some signature Goulash soup. The impressive Parliament building is 268 meters long with 365 spires, and is perhaps the grandest structure in the city. Though it has stiff competition from the Buda Castle, which looks down on the city from atop a hill. As the former residence for the Hungarian royal family, the 13th century castle now houses a museum as well as the National Library and National Gallery. Budapest also hosts annual marathons and bike events that attract athletes from all walks of life. Near the Austrian border is the town of Fertőd, where the stunning Rococo Castle Eszterháza, also known as the "Hungarian Versailles," can be found.
Both national bus providers, such as Autohec, Autotrans and Crnja Tour travel within Hungary as well as international companies throughout Europe, like Eurolines, FlixBus and RegioJet. There are plenty of opportunities to travel to and around the central European countries, and with CheckMyBus, you can find the right route at the best price.
Popular bus routes in Hungary
Cities with the most bus connections in Hungary
More bus stations and bus stops in Hungary
Hungary - Even more bus trips to or from this country