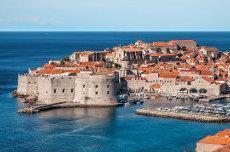 Croatia
is surrounded by Slovenia, Hungary, Serbia, Bosnia-Herzegovina, Montenegro and the Adriatic Sea. As a member of the EU, NATO, the World Trade Organization, the OSCE, and the United Nations, the country is particularly known for its myriad crystal-blue pebble beaches and is therefore a popular holiday destination. Almost all beaches have been awarded with the
Blue Flag
for their pristine water quality.
Croatia occupies the 18th place on the "World Tourism Barometer", a category measuring the popularity of a tourist destination. The most popular beach resorts are the islands Krk, Brač and Hvar, as well as Split in Dalmatia. To the north, in the Istrian region, you will find the coastal towns of Pula, Umag, Porec, Rovinj and Rabac. The southern Dalmatian city of Dubrovnik, meeting spot for the world's elite, is approached almost daily by cruise ships and is considered one of the most beautiful cities in the Mediterranean. A twenty-foot thick and one-mile long wall surrounds the city and gives it a unique flair. In the surroundings, however, there are several waterfalls in the Plitvice Lakes National Park, the Winnetou filming site, the "Red Sea" near Imotski and the "Blue Grotto" on the island of Biševo.
Croatia's northern regions can be reached by bus from Germany, Austria and Switzerland in only a few hours. Whether you are in Istria, Northern, Central or Southern Dalmatia, national and international bus operators such as FlixBus, Crnja Tours, Eurolines and Autotrans, will help you to discover the country's many beaches, cities, and attractions.
Popular bus routes in Croatia
Cities with the most bus connections in Croatia
More bus stations and bus stops in Croatia
Croatia - Even more bus trips to or from this country