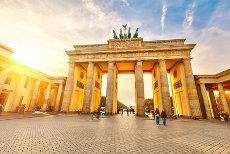 For many years, tourists from all over the world have been coming to
Berlin
, the coolest city in Europe right now – and rightly so! The moving history still has an impact on the capital today. It doesn't matter if you're at the
East Side Gallery
, admiring the works of art on the remains of the
Wall of Berlin
, which used to split the nation into two parts, or whether you're looking for politicians in the government district, attending one of the great exhibitions on the
Museumsinsel
or just party, Berlin is hot!
But that's certainly not everything that Germany has to offer, you can find the sea in the north, the mountains in the south and the various cities and regions in between. When you're in Hamburg, you shouldn't miss the traditional fish market on Sunday mornings after an exhaustive night at the infamous red-light- and party-district "Reeperbahn", in Cologne the viewing platform of the cathedral should be visited even if you're afraid of heights. And when you're in Munich, you will not only discover the beautiful English Garden, the Viktualienmarkt and the large Olympic Park but also authentic Bavarian culture, which is present even in times when the Oktoberfest is not on. Should you be looking for relaxation in the nature, a trip to Lake Constance or hiking in the Alps is highly recommended. Romantics will love the countless castles all over the country and Christmas lovers definitely need to see the traditional Christmas market in Nuremberg.
Germany is also known as the country of beer where every region has its favorite: While Bavarians go to the beer garden to drink their "Maß" – a whole liter of beer served in a traditional stein –, people in Cologne will opt for the significantly smaller yet no less traditional "Kölsch". In case you are more into wine, the Pfalz and Baden should be your destinations. And if you're getting hungry afterwards, you can have a taste of everything German cuisine has to offer from bratwurst and sauerkraut to roast pork.
Thanks to the bus, you can now easily and quickly travel to and throughout Germany! You can book cheap tickets for your trip to Berlin, Munich, Cologne and many other German metropolises. If you have a look at the bus schedule, you will also see that Germany is very well connected to the rest of Europe thanks to a vast bus network. Therefore it's no problem to travel from the Netherlands to Berlin or from the Czech Republic to Munich. Thanks to the buses, your tour of Europe will be entertaining, comfortable and what's most important: inexpensive. With just one click, CheckMyBus will allow you to find all bus routes to, from and within Germany at a glance so that you can choose your perfect trip with the bus!
Popular bus routes in Germany
Cities with the most bus connections in Germany
More bus stations and bus stops in Germany
Germany - Even more bus trips to or from this country