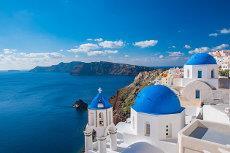 Ancient history, culture, a warm
Mediterranean climate
, beaches, mountains and turquoise seas,
Greece
delivers it all. The southern European country is famous for all the above as well as the relaxed way of life its residents enjoy, and since the country has one of Europe's biggest coastlines, full of
sandy beaches
, can you really blame them? Despite the coastal image of the famous city of
Ouzo
, and its notable blue-white architecture, approximately 78 percent of the country's landscape is
mountainous
. This makes Greece the perfect vacation spot for hikers and mountain climbers. Perhaps one of Greece's greatest characteristics is the abundance of
ancient ruins
spread throughout the country, each accompanied with a fascinating history.
Athens is one of Europe's oldest standing capital cities with a history that spans over 3000 years. The Acropolis is among the most popular sights in the world and is frequently photographed by tourists. The beach towns of Chersoneses, Rethymnon, Chania and Heraklion attract visitors from all over the world, and the beach of Vai is particularly famous for its palm-trees as well as the Samariá Gorge. Visit one of the Seven Wonders of the World, the Colossus of Rhodes, on the island of the same name as well as the beautiful historic town surrounding it. Feeling romantic? Tour the archipelago of the Cyclades with the islands of Santorini, Paros, Naxos and Mykonos being the most popular destinations for newlyweds. Blue-white architecture, dramatic cliff-sides and luxurious hotels, often equipped with infinity-pools facing the seaside, make the region the perfect honeymoon destination. The Ionic Islands of Corfu and Zakynthos have more of an Italian influence with pebbled beaches and pine trees. With 3,054 islands, there are countless opportunities for a perfect Greek trip.
Many of Europe's most notable companies, like Eurolines, Autokar Polska and AGAT travel to the southern European country from places, like Poland or Germany. With CheckMyBus, you can conveniently compare bus prices and travel times from the comfort of your own home to plan the perfect Greek adventure.
Popular bus routes in Greece
Cities with the most bus connections in Greece
More bus stations and bus stops in Greece
Greece - Even more bus trips to or from this country