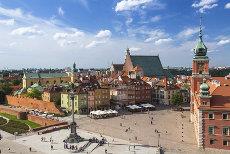 Have you always wanted to explore historical cities and learn more about the moving history of
Poland
? The Eastern European country has a lot to offer for city explorers. The young metropolis
Warsaw
, for instance, attracts more and more tourists from all over the world thanks to its modern skyscrapers, a boulevard stretching several kilometers across the city and its
infamous nightlife
. Or would you rather see Poland's secret capital,
Krakow
? The city in the south of the country ranks among the most lovely and well preserved
medieval places
in all of Europe.
You can also check out the romantic old town of the European Capital of Culture of 2016, Wroclaw, with its magnificent sites or experience the unique charm of the port in Gdansk. Besides, Poland enchants its nature-loving visitors with great landscapes. Relax at the Baltic Sea's coast with its seaside resorts and vast beaches while water fans can live it up in one of the numerous lakes and rivers within Poland. Moreover, you can do tours and trips through the marvelous nature on the hiking trails across the country. When visiting the dense forests, don't forget to take a look at Europe's last jungle where you can find all kinds of animals living in the wild. Finally, snow lovers will certainly enjoy Poland's several ski resorts, such as the High Tatra, which are perfect for a winter vacation. Despite being often underrated, Poland has a lot to offer to travelers and scores points with its super affordable prices and welcoming citizens. There are definitely abundant reasons why you should choose Poland as your next holiday destination!
European bus companies lets you travel to your favorite city in Poland easily and comfortable – no matter, if you choose to go to Warsaw, Krakow or any other of the interesting Polish cities. By using CheckMyBus, you will find the best bus routes to Poland within a few clicks and you can instantly book your cheap ticket. Poland is not enough for you? Then check out other European bus lines and have a look at the bus schedules for possible connections. Thanks to the well-organized bus network in Europe going from Germany, France or the Czech Republic to Poland is easy and convenient. There are always some cheap bus tickets up for grabs making your Euro bus trip a full success!
Popular bus routes in Poland
Cities with the most bus connections in Poland
More bus stations and bus stops in Poland
Poland - Even more bus trips to or from this country