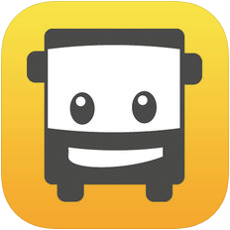 Nuremberg, 30 May 2018 - With the latest version of the CheckMyBus app for Android and iOS, users can compare intercity buses around the world even faster and more conveniently. Over 880 bus providers can be found in the system. With just one click, users can also compare train fares, airline prices and carpooling offers around the globe.
The international bus search engine CheckMyBus displays bus connections for more than 60 countries in real-time. At a glance, customers can see current prices, departure times, travel times and the exact location of bus stops from bus providers all over the world. In addition, offers from railways, carpools and all major airlines are available for comparison. Users can find the best travel deal for their trip with just one search. All this can now be conveniently accessed on the go with the improved free CheckMyBus app available for Android and iOS.
Whether customers want a spontaneous trip over the weekend or plan their holiday long in advance, the CheckMyBus app always shows the best available offers. The new version is more efficient and intuitive than ever: The main four modes of long distance transportation – bus, train, plane and ridesharing – are combined in one search, allowing users to compare results between them and see which options save the most time and money. This way, users always find the best connection for their needs. With just one more click, they can book their preferred ticket.
"With additional improvements, such as the option to select the number of passengers, the direct search for round trips, and an extended selection of filters, we could make the CheckMyBus app even more intuitive. We can offer our users the best and fastest version of our app so far," says Tino Marx, IT Director and Project Manager at CheckMyBus.

CheckMyBus App:

CheckMyBus App for iOS

CheckMyBus App for Android


About CheckMyBus
The international bus search engine, CheckMyBus, shows real-time bus schedules and prices in more than 60 countries. With over 880 bus companies and thousands of weekly departures, CheckMyBus offers its users access to the world's largest online bus network. Find your bus ticket and more information at www.checkmybus.com.

Press Contact
CheckMyBus GmbH
Michael Schacht
Karlstraße 9
90403 Nuremberg
Germany
Tél : +49 911 310440 0
Fax : +49 911 310 440 99
E-mail : press@checkmybus.com

Websites: www.checkmybus.com, www.checkmybus.co.uk, www.checkmybus.de, www.fernbusse.de, www.checkmybus.fr, www.checkmybus.at, www.checkmybus.ch, www.checkmybus.it, www.checkmybus.pl, www.checkmybus.pt, www.checkmybus.com.br, www.checkmybus.com.mx, www.checkmybus.com.ar, www.checkmybus.cl, www.www.checkmybus.hr, www.checkmybus.cz, www.checkmybus.com.tr