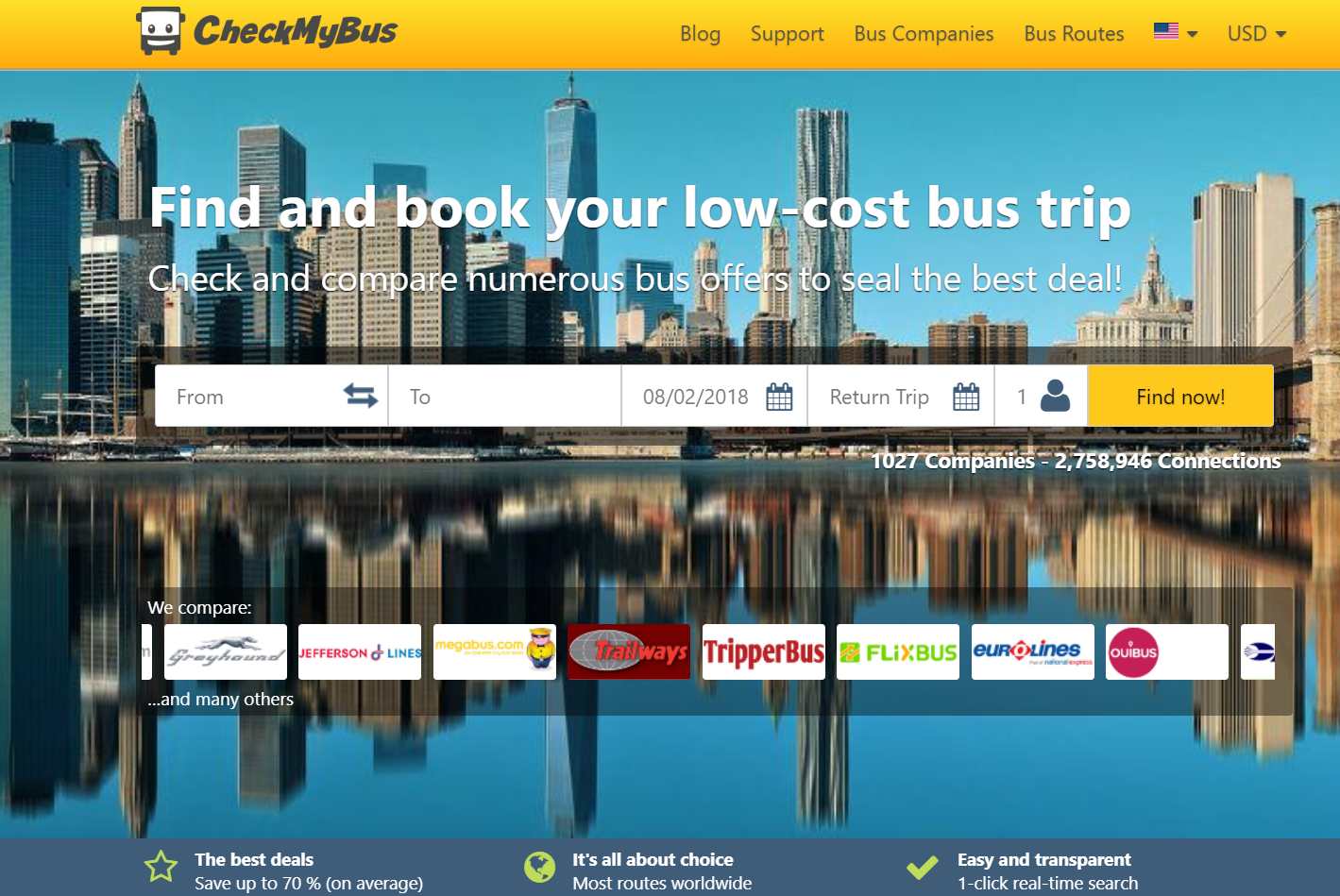 Nuremberg, Germany, July 31, 2018 – CheckMyBus, the global meta-search engine for long-distance buses, announces the completion of a Series A financing round. New lead investor is Marchmont Ventures, an office co-founded by the former CEO and CFO of Momondo Group, Hugo Burge and Alan Martin. They join the early stage investors HOWZAT Partners, AngelGate and founding angel investors.
Since its foundation in 2013, the Nuremberg-based startup CheckMyBus has developed a unique platform that allows users from all over the world to compare global bus travel options. With more bus providers and airport shuttles available than on any other similar website, and offering millions of daily bus departures to internet users, CheckMyBus has managed to become the world's leading meta-search engine in just a few years.
Two online travel industry veterans stand behind the new investor, Marchmont Ventures. Hugo Burge joined Cheapflights 18 years ago as an investor and acted as CEO of the Momondo Group for the past six years, while Alan Martin spent six years as CFO of the Momondo Group. Both see ground transportation as a huge opportunity and unfinished business in the travel sector.
"CheckMyBus has an impressive story – they have managed to become a global player in the bus market in very short time with a small team and impressive and growing international footprint. We believe there is huge untapped potential in this area and like the purpose that the team holds dear. Ground transportation, and especially buses, are a new frontier for innovation and radical improvements through the digital experience. We look forward to supporting the CheckMyBus team to make the search for buses faster, easier and better, and to achieve leadership in this exciting sector," said Hugo Burge, co-founder of Marchmont Ventures.
With the new investment, CheckMyBus aims to accelerate its growth by investing in product and marketing, with the purpose of transforming an important part of the transportation market. The ambitious goal is to show the best transportation offers worldwide, map all categories of bus transport, and remove complexities for users. Given the fact that almost 90 percent of bookings for buses are still made offline, switching them into the digital era presents a huge growth potential and opportunity for improvements.
"We are very happy to welcome Marchmont Ventures on board. The expertise and huge experience of Hugo and Alan in developing success stories like momondo and Cheapflights, as well as their passion and personal commitment, will strongly support CheckMyBus on our success path. We believe ground mobility, and bus as its largest segment, have the capacity for strong growth and disruption in online travel. An exciting journey lies ahead of us, and we are looking forward to go down this road with the support of strong investors who believe in our mission – to help digitize the global bus market and allow users around the world to easily and quickly find the best travel options," says Marc Hofmann, CEO of CheckMyBus.
Download Images:About CheckMyBus:
The international bus search engine, CheckMyBus, shows real-time bus schedules and prices in more than 60 countries. With over 1000 bus companies and millions of weekly departures, CheckMyBus offers its users access to the world's largest online bus network. Find your bus ticket and more information at www.checkmybus.com. Also available in free App for iOS or Android.
About the Investors:
Marchmont Ventures is devoted to building sustainable creativity in business, arts, crafts, heritage protection and land management. The venture includes a selective investment fund focused on scale-up opportunities, with a particular focus on digital sectors where extra support can be offered. In all their projects the team are willing to take a long-term view to build value and work closely with founders to share their experience and passion for developing high-growth, disruptive enterprises.
HOWZAT Partners is a London and Luxembourg based Venture Capital Investor with an international portfolio. Founded in 2006, the fund focuses on investments in digital start-up companies between the early Seed to Series A phase. For further information on the fund, its managers and a current list of investments please visit www.howzatpartners.com.
AngelGate based in St. Gallen, Switzerland, is a club of experienced business angels and entrepreneurs investing in scalable business models who have shown first proof of concept. More information can be found at www.angelgate.ch

Press Contact:
CheckMyBus GmbH
Michael Schacht
Karlstraße 9
90411 Nuremberg
Tel: +49 911 310440 0
Fax: +49 911 310 440 99
E-Mail: presse@checkmybus.com


For more information on the cheapest bus connections worldwide, please visit any of our 18 global websites: www.checkmybus.com, www.checkmybus.co.uk, www.checkmybus.fr, www.fernbusse.de, www.checkmybus.it, www.checkmybus.es, www.checkmybus.es, www.checkmybus.at, www.checkmybus.ch, www.checkmybus.nl, www.checkmybus.pl, www.checkmybus.pt, www.checkmybus.com.br, www.checkmybus.com.mx, www.checkmybus.cz, www.checkmybus.hr, www.checkmybus.com.ar, www.checkmybus.cl, www.checkmybus.com.tr