South Africa: COVID-19 Travel Updates
Domestic Travel
South African residents are strongly encouraged to stay home and only go outside for food, health reasons or work when this can't be done from home. Travel within the country is greatly restricted and is reserved for emergencies or work-related activities only. Buses will be allowed to transport 70% passengers of their licensed loading capacity, with requisite social distancing, wearing of masks by all passenger and other adequate measures. Rail operations are being gradually re-introduced, seating arrangement will consist in alternate seats to allow regulated spacing and control however, long distance trains are prohibited. Domestic flights are banned. Travel between provinces or metropolitan areas and/or districts is prohibited with some exceptions. These include attending a funeral, care for a sick relative or work purposes. In these cases a permit is required.
International Travel
The Government of South Africa advises against all but essential travel. Cross-Border road passenger movement remains prohibited. There is a ban for international passenger flights until further notice. Repatriation flights are still allowed.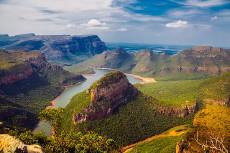 South Africa
is home to towering mountains, a dramatic coastline, vineyards and has eleven official languages. The country's diverse wildlife is what attracts so many people from all over the world to South Africa's numerous national parks. The
Kruger National Park
is among the world's most famous safari parks and gives visitors the chance to see lions, leopards, elephants and rhinos. The
iSimangaliso Wetland Park
features several ecosystems, where hippos and crocodiles as well more than 500 species of birds can be found.
Unlike most countries, South Africa has three capital cities with Pretoria, Bloemfontein, where J.R.R. Tolkien was born, and Cape Town each housing different branches of the government. Cape Town is one of the world's most striking cities, overlooked by flat-topped Table Mountain, and is characterized by charming waterfronts. The country's largest city and financial center is Johannesburg which is full of art galleries, museums, the Mandela House national monument and plenty of shopping venues like the Carlton Centre. Nearby is the Cradle of Humankind, a paleoanthropological site that earned its name for being where the largest number of hominin fossils were ever found, with some being as old as 3.5 million years. Stellenbosch is a picturesque university town with a thriving art scene, and the Jonkershoek Nature Reserve nearby. For some of the most scenic hiking trails in the country, visit Drakensberg and see South Africa's tallest mountain the Thabana Ntlenyana, which translates to "beautiful little mountain." For a more relaxing trip, be sure to take full advantage of the warm climate by visiting the expansive sandy beaches near Durban, known as the Golden Mile.
There are several coach companies which offer affordable trips throughout South Africa and surrounding countries. These include Eldo Coaches, Greyhound South Africa and Intercape. With CheckMyBus, you can compare ticket prices to find the best bus deal when traveling throughout South Africa.
Popular bus routes in South Africa
Cities with the most bus connections in South Africa
More bus stations and bus stops in South Africa
South Africa - Even more bus trips to or from this country