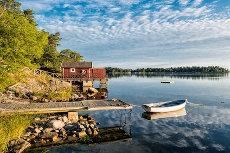 Sweden combines vast landscapes, medieval villages and modern architecture and style like no other country in the world. When visiting Sweden, leisure time options range from city trips to hiking tours through national parks. One of the most remarkable fact about the country is that 15 per cent of its surface area is located north of the Arctic Circle: Taking a trip up there, for instance to Abisko National Park in Lapland, is a unique experience especially if you're lucky enough to catch a glimpse of the Northern Lights.
Sweden's capital is Stockholm, which is famous for its many museums documenting everything Swedish. The most popular amongst them are certainly the ABBA museum and the Vasa museum. In the latter you can marvel at a 17th century battle ship which has only been recovered from the bottom of the sea a few decades ago. When you're there, make sure to also visit Drottningholm Palace, the official residence of the Swedish royal family, which is part of the UNESCO World Heritage. So is the small town of Visby on Gotland Island, where medieval ruins and 17th century timber buildings are surrounded by rose gardens in order to create a charming, nostalgic atmosphere. If you're a fan of classic architecture, take a trip to the city of Lund to marvel at Lund Cathedral, one of the prime representatives of Romanesque style. Should you prefer more recent edifices, however, then Sweden is still the place to be. Scandinavian design and modern structures can be found all over Sweden. One of the most impressive buildings is Öresund bridge, which is 8 kilometres long and connects the Swedish city of Malmö with the Danish capital Copenhagen.
Numerous coach companies offer inexpensive trips to Scandinavia and Sweden is one of the prime destinations. You can choose between rides offered by Bohemian Lines, Eurolines Germany, FlixBus and Swebus amongst others. CheckMyBus helps you find the most convenient coach trip to Sweden and allows you to save money by comparing ticket prices.
Cities with the most bus connections in Sweden
More bus stations and bus stops in Sweden
Sweden - Even more bus trips to or from this country