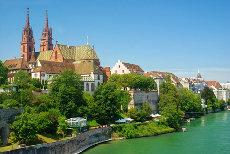 Switzerland
is a popular travel destination – not only because of its delicious varieties of cheese and chocolate. The country also offers incredible landscapes with
numerous mountains and lakes
. Since more than half of Switzerland is made up of mountains – the Alps – travelers looking for some action will definitely get their money's worth here. And the renowned
ski resorts
Sankt Moritz, Davos and the Matterhorn are perfect for mountain climbing and hiking trips in summer as well.
Besides, you can find Europe's highest train station at an altitude of 3,500 m on the Jungfraujoch, the so-called "Top of Europe". Even if you're afraid of heights you nevertheless shouldn't miss Switzerland! The country in the heart of Europe is also very attractive for city travelers despite its compact size. For instance, Geneva offers international flair just next to the Alps which you best experience while walking along the Lake Geneva. The capital, Bern, has numerous medieval buildings and also the famous bear pit, a heritage site in the middle of the city housing real-life bears. If you're a culture lover, you should visit Basel, which is especially exciting during the internationally renowned arts fair "Art Basel". You could also take a trip to Zurich, the city with the highest standard of living worldwide and see for yourself why the inhabitants of Zurich are among the happiest people in the world. Furthermore, foodies will love a trip to Switzerland, too. Swiss cheese is appreciated for its high quality by gourmets worldwide and you definitely need to try a real Swiss fondue or raclette. But don't forget the other culinary specialties such as rösti, dried beef or the famous rübli cake. Switzerland combines great cultural diversity on a small space with its German, French and Italian parts and is an ideal travel destination all year round – a trip there is always worth it!
Traveling to Switzerland by bus is not only easy and comfortable, but also inexpensive. For example, you can go to Zurich, Geneva or Basel: On CheckMyBus you can find all bus routes taking you to Switzerland and book your cheap ticket. CheckMyBus shows you all departure and arrival times as well as bus stops in Switzerland at one glance. Swiss chocolate and mountains are not enough for your? No problem! CheckMyBus allows you to find bus stops in the whole of Europe and to check the bus schedules for convenient connections. Book your bus trip from Switzerland to Germany, Italy, France and many other European countries!
Popular bus routes in Switzerland
Cities with the most bus connections in Switzerland
More bus stations and bus stops in Switzerland
Switzerland - Even more bus trips to or from this country