United Kingdom: COVID-19 Travel Updates
Domestic Travel
Different regions have different regulations, with tiers numbered from one to four. Those looking to travel should refer to the local policies of the regions they're travelling to and from.
International Travel
The Foreign and Commonwealth Office (FCO) advises against all but essential travel. This advisory is for an indefinite period of time. Travelers with potential COVID-19 symptoms may be transported to an airport self-isolation room.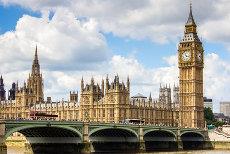 No matter if you want to see the
Queen, Buckingham Palace, Tower Bridge, Westminster Abbey or Hyde Park
– the world metropolis
London
is always worth a visit. Great Britain and England's capital offers history, culture and leisure all at once. You can for example gaze at world-renowned artworks in the
Tate Gallery
, check out one of the many
West End
shows or lose track of time in
Harrods
, a famous luxury department store. Alternatively, you can admire street performers or take a look from up high of Europe's financial center during a ride with the
London Eye.
Or would you rather experience the enchanting small towns along the coastline such as Brighton and try the real "Fish & Chips"? If you've always wanted to taste fresh oysters, that's not a problem either! The home of Shakespeare, David Beckham and Sherlock Holmes also allows you to discover more about all its music stars such as the Beatles, Queen or the Spice Girls on your trip throughout the UK. Of course, since England is the place where soccer has been invented, you should also visit one of the soccer clubs' splendid stadiums. Besides, the north also has many attractions: you can try to spot Nessie at Loch Ness, see whether an authentic Scottish kilt would suit you or take part in a whisky tasting. City lovers will enjoy the Scottish cities Glasgow and Edinburgh with their impressive buildings and cozy pubs. If you're more into nature, Northern Ireland offers an open countryside, coarse cliffs and the unique Giant's Causeway which is also part of the UNESCO World Nature Heritage. There's definitely no room for boredom in the UK's various regions and everyone will find something for his or her taste!
The bus represents the most affordable and convenient to travel from city to city in the United Kingdom. For instance, you can book your cheap ticket to London, Glasgow or Manchester – if you're lucky there's also a coupon available, allowing you to save even more money. You will find the best bus routes for your next trip with CheckMyBus – be it within the UK or beyond. CheckMyBus allows you to have a look at the bus schedule in order to find connections throughout all of Europe. Crossing the English Channel is not a problem thanks to ferry boats. Look for your bus travel options from the UK to places on mainland Europe, such as France, Spain or Germany. Your perfect – and inexpensive – Euro trip is just a few clicks away!
Popular bus routes in the United Kingdom
Cities with the most bus connections in the United Kingdom
More bus stations and bus stops in the United Kingdom
United Kingdom - Even more bus trips to or from this country