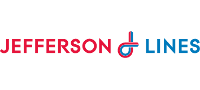 As the second largest bus company for intercity travel founded in the US,
Jefferson Lines
operates bus trips all over the Midwest, covering 13 states and featuring hundreds of destinations, such as Minneapolis or Minnesota, where its headquarters is located. It also serves bus stops in Texas, North and South Dakota and many other states. Established in 1919, the bus company has steadily worked on its services in order to offer convenient and inexpensive bus travels. During the economic crisis around 2007, the entire bus service business was stuck in a serious slump and some bus companies shrunk into bankruptcy. In contrast, Jefferson Lines survived the crisis and even took over many
bus routes
from other competitors, continuing to increase its ridership ever since.
Currently Jefferson Lines offers 0 bus connections across numerous states in over 0 cities, covering even remote areas like small towns or villages where rail or air services are not available. Additionally, Jefferson Lines has launched 17 college bus connections in five states, serving bus stations directly on campus, which has brought huge convenience to students during holiday and back-to-uni seasons.
Insider-Tips: Jefferson Lines offers several types of discount. Early birds are rewarded at Jefferson Lines: Any passenger who books a ticket 7 days ahead of departure will benefit from a generous discount – no coupon needed. Secondly, children under the age of 11, college students, military veterans and seniors over 62 years of age benefit from attractive discounts. Jefferson Lines also provides passengers with a live-update bus tracker service to pass on precise information about the current location of the specific bus. Moreover, some buses are also equipped with unique features like DVD players and XM Radios, resulting in additional entertainment.
Popular Jefferson Lines Routes
As America's second largest intercity bus company, Jefferson lines has numerous connections all over the Midwest, Central and Western United States serving cities like Chicago, Minneapolis, Denver, Oklahoma City and Las Vegas.
Ratings and Comments for Jefferson Lines
More information about the bus amenities and services of the bus provider Jefferson Lines
free:
WiFi

restrooms

power plugs

air-conditioning

compartments for hand-luggage

luggage transportation
FAQs about Jefferson Lines
How do I find the cheapest trip with Jefferson Lines?
You can use our search engine to find the cheapest trip from Jefferson Lines quickly and easily. Use the filter in our search engine and find all trips from Jefferson Lines directly, so you can also find deals, special offers and discount campaigns.
How many days in advance should I book a ticket with Jefferson Lines?
In general, if you wait too long, you may pay more for your bus ticket. We at CheckMyBus have set the default time for booking a bus ticket to around 3 days before departure. Early bookers therefore usually save more.
How can I book my ticket for a trip with Jefferson Lines?
Via CheckMyBus, you receive all trips from Jefferson Lines. Have you found the right trip with Jefferson Lines? In our search results list, click on the 'View Deal' button for the respective trip from Jefferson Lines. You will be redirected directly to the bus provider's website. Then, you complete the booking there.
What amenities are available on Jefferson Lines buses?
Jefferson Lines buses have a bathroom on board, especially on longer journeys. On many buses, sockets offer the possibility to charge your cell phone. You can then use the free WiFi to inform your friends and family about the current location on some buses from Jefferson Lines.
How can I pay for my ticket?
In addition to payment by credit card, many companies also offer instant transfer and payment via PayPal. Please note, CheckMyBus only serves as an intermediary. The payment of the ticket is made directly to the respective bus company.
How can I rate my trip with Jefferson Lines?
You can rate your trip with Jefferson Lines directly via CheckMyBus and share your experiences with other travelers. Rate Jefferson Lines on a scale from 5 ***** to 1 * and tell others your opinion on a trip with Jefferson Lines.
How far in advance can you find bus trips?
It is generally possible to check or book bus trips roughly six months in advance. If a provider only offers the route seasonally, you are welcome to contact CheckMyBus. We will then check when the next available bus leaves for you.
How can I cancel my bus ticket with Jefferson Lines?
In order to cancel the bus ticket, we ask you to contact Jefferson Lines directly. CheckMyBus is a search engine for buses and is therefore not involved in selling or booking the ticket itself.
Bancontact

VISA

JCB

Apple Pay

iDeal

Hipercard

Discover

elo

Klarna

American Express

Diners Club International

Troy

Wechat Pay

UnionPay

Mastercard
Cancellation policy can vary