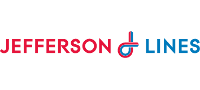 As the second largest bus company for intercity travel founded in the US,
Jefferson Lines
operates bus trips all over the Midwest, covering 13 states and featuring hundreds of destinations, such as Minneapolis or Minnesota, where its headquarters is located. It also serves bus stops in Texas, North and South Dakota and many other states. Established in 1919, the bus company has steadily worked on its services in order to offer convenient and inexpensive bus travels. During the economic crisis around 2007, the entire bus service business was stuck in a serious slump and some bus companies shrunk into bankruptcy. In contrast, Jefferson Lines survived the crisis and even took over many
bus routes
from other competitors, continuing to increase its ridership ever since.
Currently Jefferson Lines offers 0 bus connections across numerous states in over 0 cities, covering even remote areas like small towns or villages where rail or air services are not available. Additionally, Jefferson Lines has launched 17 college bus connections in five states, serving bus stations directly on campus, which has brought huge convenience to students during holiday and back-to-uni seasons.
Insider-Tips: Jefferson Lines offers several types of discount. Early birds are rewarded at Jefferson Lines: Any passenger who books a ticket 7, 14 or 21 days ahead of departure will benefit from a generous discount of up to 50 % of the total price – no coupon needed. Secondly, families, children under the age of 11, college students, military veterans and seniors over 62 years of age benefit from attractive discounts. Jefferson Lines also provides passengers with a live-update bus tracker service to pass on precise information about the current location of the specific bus. Moreover, some buses are also equipped with unique features like DVD players and XM Radios, resulting in additional entertainment.
Jefferson Lines COVID-19 Updates
Jefferson Lines Network
Jefferson Lines continues to operate in the United States. They have expanded their cleaning procedures and frequency. Passengers should check with local and state governments of the city and/or state they are traveling to in order to understand travel requirements or restrictions.
Jefferson Lines Rebooking and Cancellation
Jefferson Lines have updated their ticket reissue policy to provide flexible wavers to reissue tickets through April 30th. Requests must be made no later than the day before the original date of departure.
More information about the bus amenities and services of the bus provider Jefferson Lines
free:
WiFi on Board

Restrooms

Power Plugs

Air-conditioning

Compartments for hand-luggage

Luggage transportation
Popular Jefferson Lines Routes
As America's second largest intercity bus company, Jefferson lines has numerous connections all over the Midwest, Central and Western United States serving cities like Chicago, Minneapolis, Denver, Oklahoma City and Las Vegas.