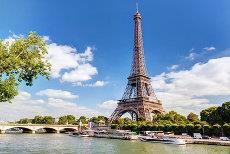 How about watching the sunset in
Paris
with a bottle of a wine and a piece of baguette or checking out the latest fashion trends? Taking a trip to the numerous castles along the
Loire River
and dreaming yourself back to the times of the mighty kings? Go surfing at the seaside and explore the different regions in France together with your best friends? Or would you rather just relax on the beach and experience the famous
"savoir-vivre"
? Then France is the right destination for you!
The largest country within Europe attracts numerous tourists every year thanks to its various sights. Paris, the "city of love" in the center of France ranks among the most popular metropolises worldwide which is not surprising since the famous Eiffel Tower, the prestigious Champs-Elysées or the Louvre Museum can be found there. While sportsmen will enjoy the French Open and the traditional Tour de France bike race, culture lovers shouldn't miss the yearly film festival in Cannes, where there's a coming and going of the international and the French High Society. And of course, since France is a nation full of indulgence, culinary gourmets also get their money's worth: Take a trip along the scenic wine routes or to Reims to learn where the champagne bubbles come from, have a nice dinner in one of the world-famous Michelin Star restaurants or just try the endless varieties of French cheese. The "Grande Nation" is awaiting you with these and many more experiences!
It has never been easier to come to France since the buses are becoming more and more popular in the whole of Europe, including France. For instance, you can book a cheap bus ticket to Paris, Toulouse or Lyon. On CheckMyBus you will get the best and most affordable offers for your next bus trip to the most visited country in the world. Have a look at the bus schedules of various companies to see who offers trips to France and to plan your tour of Europe. Bus routes from Spain or Germany to France are not hard to find and CheckMyBus will help you to choose your perfect bus. Within one click, you can compare prices, bus features and departures times for your bus trip to France!
Popular bus routes in France
Cities with the most bus connections in France
More bus stations and bus stops in France
France - Even more bus trips to or from this country