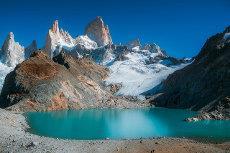 As South America's southernmost country,
Argentina
features landscapes that are as dramatic as they come. With an extreme variety of natural wonders including: unique glaciers, towering mountain ranges, tropical lagoons, massive waterfalls, and expansive jungles. The name "Argentina," itself, actually derives from the Latin "argentum," due to its colonial history and the initial hopes of the Spanish crown to uncover riches.
The country's capital and largest city, Buenos Aires, is commonly referred to as "the Paris of South America," and serves as Argentina's cultural, economic and political center. Nearly a third of the country's population are residents of the city, and there is a strong European influence on its architecture. Other major cities include the country's second largest city, Córdoba, Rosario, and the coastal city of Mar del Plata. In one of the city's notable restaurants try some of the delicious local cuisine, including the beef specialty Asado, Provoleta cheese and Argentinean red wine, Malbec. If your top priority is to see some of the country's most beautiful landscapes and you're feeling overwhelmed by all the options to choose from, here is a short list of some top suggestions:
1. Iguazú Waterfalls: With a width of 1.7 miles and its tallest drop being 269 feet, the Iguazú falls is the largest waterfall system in the world, and is second only to southern Africa's Victoria falls in terms of the scale of its individual water curtain.
2. Tierra del Fuego and Ushuaia: Nicknamed "The End of the World," the world's most southern city, Ushuaia, is surrounded by rugged cliffs and severe winds, and is surrounded by the archipelago, Tierra del Fuego. Regular expedition tours to Antarctica are offered here for a once in a lifetime trip.
3. Bariloche and the Lake District: Located in the middle of the iconic Andes mountain range, the deep blue hue of the water water reflects the surrounding lush green forests for a spectacular feast for the eyes.
Find the perfect bus trip in Argentina with CheckMyBus. The most commonly used bus companies in the country include Chevallier, Flecha Bus, El Rápido Argentino and Plusmar. Whether you're looking for buses throughout South America, North America or Europe, we compare bus schedules and traveling costs for you to plan the best trip.
Popular bus routes in Argentina
Cities with the most bus connections in Argentina
More bus stations and bus stops in Argentina
Argentina - Even more bus trips to or from this country