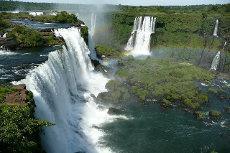 Brazil
is one of the most diverse countries in the world, both concerning its many metropolises and its natural landscapes. When you're traveling to Brazil, you can get everything from a trek through the Amazonian Rainforest over mountain climbing in the Serra do Mar to sightseeing tours of some of the most modern cities in the world. A vast amount of famous beaches including
Copacabana and Ipanema
top off Brazil's reputation as the perfect holiday destination.
With a coastline of more than 4,600 miles Brazil is a paradise for everyone who enjoys a good beach vacation and a refreshing glass of Caipirinha. But the country has much more on offer, from UNESCO World Heritage Sites to impressive natural heritage. Always worth a visit, for instance, are the Iguazu Falls at the border to Argentina or the Rio da Prata, where you can go on snorkeling adventures. You cannot leave Brazil without having seen the country's most renowned landmark: the statue of Christ the Redeemer in Rio de Janeiro. The city, which is one of the most frequently visited places in Brazil, used to be the country's capital until it was replaced by Brasília in 1960 – a city specifically designed and constructed as a modern and cosmopolitan capital. Should you schedule your trip to Brazil, then make sure to visit during the country's most lively season: When the famous carnival is on, cities like São Paulo, Recife or Salvador are turned into big samba party zones. Another feature, Brazil as a whole is famous for, is its love of sports – be it Formula 1 during the Brazilian Grand Prix at Interlagos, soccer or athletics. Reason enough for the country to have been elected as the host country for both the 2014 FIFA World Cup and the 2016 Olympic Games.
Numerous national and international bus companies offer cheap connections between destinations in Brazil. Amongst them are, for instance, Águia Branca, Andorinha, Auto Viação 1001, Nacional Expresso, Util and Viação Cometa. The bus is thus the perfect travel option if you want to discover the whole of Brazil, including all of its urban and natural highlights.
Popular bus routes in Brazil
Cities with the most bus connections in Brazil
More bus stations and bus stops in Brazil
Brazil - Even more bus trips to or from this country