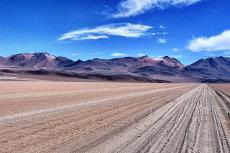 Spanning 2,672 miles along the South American continent's western shore,
Chile
boasts a massive range of climates, landscapes and biodiversity that is rarely paralleled. With a rich history that is accented by plenty of local legends and mythology, the South American nation's name is believed to derive from the Aymara language, meaning
"Country where the world ends."
The name is very fitting to the country's vast and dramatic landscapes which range from the
Atacama Desert
to South America's southernmost tip at
Cape Hoorn
, made extremely infamous by sailors for its frigid Antarctic winds.
Chile's capital city of Santiago de Chile is stunning, surrounded by a wall of the Andean mountains' snow-capped peaks. Filled with sights and attractions, the South American city offers tons of museums, such as the National Historical Museum, Contemporary Art Museum of Santiago and the Former Congress Building. Other popular sites include Municipal Theatre of Santiago, the statue of the Virgin Mary at San Cristobal Hill, and the Estadio Nacional de Chile. One of the world's most diverse places, the Atacama Desert offers landscapes like something from another planet. The region's Valle de la Luna (Valley of the Moon) gives you the feeling of walking on the moon without having to leave the planet. Test your limits by attempting to scale the massive Salar de Talar salt flat to view the expansive salt deserts and be amazed by the unlikely pocket of flowers at its center, a phenomenon that results from the warm winds of El Niño. The Torres del Paine National Park exhibits icebergs and glaciers as well as fascinating rock formations, mountains and truly unique wildlife. For one of the region's most iconic wonders, visit Easter Island to see the famous Moai statues to appreciate the human-made spectacle.
Chile hosts a nicely developed network of roads with buses that connect from Argentina and Brazil. The country's most notable bus companies include Turbus, Bus Norte, Andesmar and Pullman Bus. The CheckMyBus search engine can help you find any information you need to find the right routes with the best deals.
Popular bus routes in Chile
Cities with the most bus connections in Chile
More bus stations and bus stops in Chile
Chile - Even more bus trips to or from this country