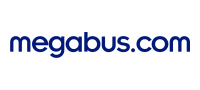 megabus US
was founded in 2006 under its parent company Coach USA and has evolved swiftly into one of the big players in the bus industry in both North America and Europe. It has been notable ever since for providing
cheap bus travel services
between cities with an incredible price – no matter whether the two cities are separated by state or country borders. Bus trips to Canada and Mexico frequently start at $1! Unlike other major bus companies, that solely operate bus trips starting at traditional
bus stations
, megabus has additionally put its innovative idea of serving at curbside bus stops into practice. This way travelers do not have to wait at crowded bus stations bus can board the bus conveniently at comparatively quiet bus stops which are exclusively served by megabus vehicles. In order to create an all-American bus service, megabus has called on its customers to design buses whose appearance is inspired by one of the US states.
megabus operates well-established bus routes in over 34 states, serving ten million passengers per year. Moreover, it is still expanding its network to new locations. At the moment, 120 cities are covered with a total of over 715 bus connections being provided by megabus.
Insider-Tips:
With megabus passengers can always find cheap tickets starting at
$1
. CheckMyBus also collects and displays all the cheap bus travel services offered by megabus, so be sure to look out for
megabus $1 Tickets and Promo Codes
. Furthermore, a megabus ticket includes
free luggage services
: So pack your suitcase and find your cheap bus journey!
More information about the bus amenities and services of the bus provider megabus US
free:
WiFi on Board

Restrooms

Compartments for hand-luggage

Luggage transportation