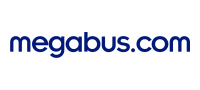 megabus US
was founded in 2006 under its parent company Coach USA and has evolved swiftly into one of the big players in the bus industry in both North America and Europe. It has been notable ever since for providing cheap bus travel services between cities with incredible prices – whether the two cities are separated by state or country borders. Bus
trips to Canada and Mexico
frequently start at
$1
! Unlike other major bus companies, that solely operate bus trips starting at traditional bus stations, megabus has additionally put its innovative idea of serving at curbside bus stops into practice. This way travelers do not have to wait at crowded bus stations bus can board the bus conveniently at comparatively quiet bus stops which are exclusively served by megabus vehicles. In order to create an
all-American bus service
, megabus has called on its customers to design buses whose appearance is inspired by one of the US states.
megabus operates well-established bus routes in over 34 states, serving ten million passengers per year. Moreover, it is still expanding its network to new locations. At the moment, 115 cities are covered with a total of over 681 bus connections being provided by megabus.
Facts about the bus company megabus
How many bus routes does megabus operate? How many cities are there in the network plan?
Ratings and Comments for megabus
Special Offers: Current Discounts and Coupons from megabus
With megabus, passengers can always find cheap tickets starting at $1. CheckMyBus also collects and displays all the cheap bus travel services offered by megabus, so be sure to look out for megabus $1 Tickets and Promo Codes. Furthermore, a megabus ticket includes free luggage services: So pack your suitcase and find your cheap bus journey.
megabus regularly offers promo codes or other attractive deals. To keep up to date with any current offers, you should check all megabus Deals before booking.
With headquarters in both Elizabeth, NJ and Peterborough, ON, megabus offers a network of intercity bus connections in both the United States and Canada. From the Midwest to the east and west coasts, megabus operates bus connections to and from roughly 120 cities throughout North America.
megabus offers regular service alerts for any route updates, such as changes in pick-up or drop-off locations, and also provides a tracking service on its website to check for delays. The company is highly committed to greener travel with its "GreenRoad system" that reduces CO2 emissions with a real-time feedback system for drivers, and attractive incentives for maximizing fuel efficiency.
More information about the bus amenities and services of the bus provider megabus US
free:
WiFi

restrooms

compartments for hand-luggage

luggage transportation
extra charges:
How do I find the cheapest trip with megabus US?
You can use our search engine to find the cheapest trip from megabus US quickly and easily. Use the filter in our search engine and find all trips from megabus US directly, so you can also find deals, special offers and discount campaigns.
How many days in advance should I book a ticket with megabus US?
In general, if you wait too long, you may pay more for your bus ticket. We at CheckMyBus have set the default time for booking a bus ticket to around 3 days before departure. Early bookers therefore usually save more.
How can I book my ticket for a trip with megabus US?
Via CheckMyBus, you receive all trips from megabus US. Have you found the right trip with megabus US? In our search results list, click on the 'View Deal' button for the respective trip from megabus US. You will be redirected directly to the bus provider's website. Then, you complete the booking there.
What amenities are available on megabus US buses?
megabus US buses have a bathroom on board, especially on longer journeys. On many buses, sockets offer the possibility to charge your cell phone. You can then use the free WiFi to inform your friends and family about the current location on some buses from megabus US.
How can I pay for my ticket?
In addition to payment by credit card, many companies also offer instant transfer and payment via PayPal. Please note, CheckMyBus only serves as an intermediary. The payment of the ticket is made directly to the respective bus company.
How many routes does megabus US have?
According to its bus schedules, megabus US currently drives many travelers from A to B on over 705 routes every day.
How many cities does the bus company megabus US serve in total?
The current bus network of megabus US connects 88 cities. Our search engine is like a digital network map with current connections and stops.
How can I rate my trip with megabus US?
You can rate your trip with megabus US directly via CheckMyBus and share your experiences with other travelers. Rate megabus US on a scale from 5 ***** to 1 * and tell others your opinion on a trip with megabus US.
How far in advance can you find bus trips?
It is generally possible to check or book bus trips roughly six months in advance. If a provider only offers the route seasonally, you are welcome to contact CheckMyBus. We will then check when the next available bus leaves for you.
How can I cancel my bus ticket with megabus US?
In order to cancel the bus ticket, we ask you to contact megabus US directly. CheckMyBus is a search engine for buses and is therefore not involved in selling or booking the ticket itself.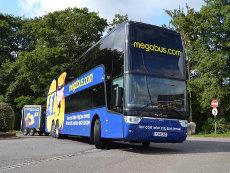 Back in 2006, the company was founded through Stagecoach's
Coach USA
subsidiary with the name megabus, an established brand in the UK. In the beginning, megabus focused on routes in the Midwest, linking Chicago to nearby cities, such as Milwaukee, Cleveland and Ann Arbor. A year later, the company began bus routes in the Southwest, with connections in the Bay area and Los Angeles. However, due to stagnated growth, the company discontinued its LA hub, and
re-entered this market in 2012
.
After its initial withdrawal from the west coast, megabus turned to the Northeast with routes connecting New York city to major hubs, such as Washington D.C., Boston and Toronto. These routes proved very successful and the company continued to expand to cities, such as Syracuse, Rochester and Hartford. In 2009 and 2010, megabus expanded in Pennsylvania and the Southeast. By 2010, the company shifted its model from spoke-and-hub to point-to-point. In 2012, megabus returned to the West Coast, primarily serving San Francisco, Oakland, San Jose, Sacramento, Reno, Riverside and Los Angeles.
VISA

Discover

American Express

Diners Club International

WorldPay

Google Pay

Mastercard
Cancellation not possible - no refund
The CheckMyBus App
Free Download