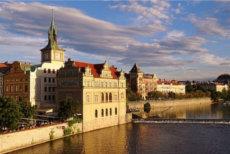 Czech Republic is not rarely simply reduced to its capital city Prague – but the country has much more to offer. If you are fascinated with the medieval ages and enjoy a cool glass of beer, then Czech Republic is the perfect place to visit when in Europe. Czech Republic's rich cultural heritage is shaped by many famous architects and writers such as Franz Kafka or Alphonse Mucha with many monuments and landmarks forming part of the UNESCO World Heritage.
Prague, the capital city of Czech Republic, is famous all over the world thanks to attractions such as Prague Castle, Charles Bridge and the Jewish Quarter. In Brno we recommend taking a trip to the Villa Tugendhat, an icon of modernist architecture which is amongst the few recent buildings ranked as UNESCO World Heritage Site. In Kutná Hora the Sedlec Ossuary is awaiting visitors: The Roman Catholic chapel is said to contain about 40,000 to 70,000 skeletons and is therefore particularly famous with visitors who don't mind some goose bumps. Famous European writers and musicians such as Goethe and Beethoven have always appreciated the healing powers of Czech spa towns such as Karlovy Vary (also known as Carlsbad) or Teplice. Travelers looking for more active and sporty holidays can go hiking or skiing in the Bohemian Forest. Last but not least, Czech Republic is famous for its outstanding beer: You can visit the Pilner Urquell brewery in Plzeň or go to České Budějovice, where Busweis Budvár is brewed.
Czech Republic is basically located at the border of Western and Eastern Europe and thus well integrated into the European bus network. Bus companies such as Eurolines Czech Republic, FlixBus and RegioJet (Student Agency) offer a multitude of daily services to and from Czech cities at inexpensive rates. Simply hop on the bus and explore Czech Republic.
Cities with the most bus connections in Czech Republic
More bus stations and bus stops in Czech Republic
Czech Republic - Even more bus trips to or from this country