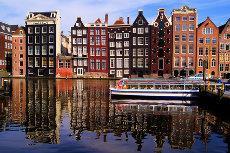 If you've always dreamed of taking a boat tour on a canal or visiting the
North Sea coast
, the
Netherlands
are the perfect travel destination for you! The home of the "Oranje"-soccer team will not only welcome you with
tulips and Gouda cheese
but offers a lot more for tourists. For instance, you shouldn't miss the royal flair of
Amsterdam
– the capital is not only known as the residence of the Dutch royal family bus also as a huge open air museum with a unique atmosphere.
You have the chance to check out famous artworks from all over the world, strolling down the beautiful alleys or experience the city's cultural diversity from a cozy café. Just within a stone's throw of the capital lies Rotterdam, the second largest city in the Netherlands. It is still mainly known for its immense port however it recently started to attract more visitors thanks to its incredible architecture. A still unknown secret tip for city lovers is the student town of Utrecht with the biggest university of the country and an unforgettable ambience. In case you are rather interested in relaxing travels, a trip to the Dutch coast would invite you to stay. The regions along the coastline offer incredible landscapes with endless dunes and sandy beaches – ideal for both water lovers and walkers. Besides, you will find historic ports, blooming flower nurseries and the renowned Dutch wind mills. The Kingdom of the Netherlands is definitely always worth a visit!
Traveling to the Netherlands is easier than ever today – thanks to the increasing number of bus routes, you can reach your favorite destination quickly and at a low price. You can for example book a cheap ticket for a bus trip to Amsterdam, Maastricht, Groningen and many other famous Dutch cities. CheckMyBus will help you find the best offer at a glance and allow you to check all bus schedules and bus features in order to make your Euro trip a full success! If the Netherlands are only one stop on your agenda, then CheckMyBus is the perfect option for you: You can find bus stations all over Europe and bus routes connecting the Netherlands with other exciting destinations in Germany, France, Italy, Spain and many other European countries.
Popular bus routes in the Netherlands
Cities with the most bus connections in the Netherlands
More bus stations and bus stops in the Netherlands
Netherlands - Even more bus trips to or from this country