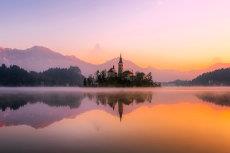 With
52 nature reserves
, 44 protected landscape parks, 286 Natura-2000 designated protected bird and flora-fauna habitats and three regional parks,
Slovenia
is the perfect place to go to appreciate the outdoors. From coastline to mountains and clear lakes, Slovenia has some of Europe's most stunning natural scenery. The
Dinaric Alps
,
Julian Alps
and
Kamnik-Savinja Alps
as well as the Karavanke range offer plenty of alpine sights for hikers and skiers during the winter months. Slovenia's highest peak,
Triglav
, stands at an impressive 9,395 feet tall and can be found in the
UNESCO-natural park
of the same name.
Also known as "The Emerald Beauty," the Soča River is one of the most stunning rivers in Europe, keeping its striking green color throughout much of its length. Lake Bled maintains a similar turquoise hue and is the home of Bled Island, where you can take a wooden boat, traditional to the region, to see the medieval church dedicated to the Virgin Mary. The coastal city of Piran is one of Slovenia's most popular cities as well as the capital, Ljubljana.
Located in central Europe, Slovenia is well-connected with state of the art infrastructure and a highway that easily connects the country's cities to each other as well as the rest of Europe. Navigating the country by bus is extremely easy, especially with international bus providers, such as Crnja Tours, FlixBus, Go Opti, and Pantourist, offering many routes in Slovenia from nearby Italy, Germany, Austria or Croatia to the capital or major cities, like Maribor, as well as various other popular destinations.
Popular bus routes in Slovenia
Cities with the most bus connections in Slovenia
More bus stations and bus stops in Slovenia
Slovenia - Even more bus trips to or from this country