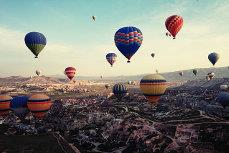 Sandy beaches,
pristine waters
, guaranteed sunshine, luxury hotels, golf resorts and the hospitality of its people make Turkey one of the most popular holiday destinations in Europe. Especially the
Turkish Riviera
with places like Kemer, Belek and Side as well as the
Turkish Aegean
around Izmir, attracts tourists from all over the world.
Nearly one-fifth of the Turkish population live in one of the country's megapolis such as Istanbul, Antalya or Ankara. The former Constantinople (today Istanbul ) is the economic and cultural center of the country. The city is located on the Bosporus and is divided by a seascape on two continents. The main attraction is the Hagia Sophia Mosque and the Topkapi Palace, the former residence and government seat of the Sultan. In Turkey, there are numerous nature reserves and 16 UNESCO World Heritage sites, such as the town of Pergamon, the Roman city of Ephesus or the thermal springs of Pamukkale.
Intercity bus operators, such as Eurolines take you from many European cities directly to Istanbul. It is also possible to travel by bus through Turkey. Bus companies like Has Turizm, Efe Tur and Adiyaman Güleras offer many scheduled bus services. CheckMyBus offers you the possibility to compare prices and departures so that you can find the best deals.
Popular bus routes in Turkey
Cities with the most bus connections in Turkey
More bus stations and bus stops in Turkey
Turkey - Even more bus trips to or from this country