Canada: COVID-19 Travel Updates
Domestic Travel
Canadian residents are strongly encouraged to stay home. Travel health notices include a warning to avoid non-essential travel in order to protect the health of other travellers and the general public. Travel within the country is restricted, and many bus companies, such as Greyhound have temporarily suspended all services until passenger travel demand recovers.
International Travel
The Government of Canada advises that you avoid all non-essential travel outside of Canada until further notice. Canadian residents abroad are strongly advised to return where commercial routes are still available. As of March 21, 2020, there's a restriction on all non-essential (discretionary) travel at the Canada-U.S. border. This is valid until further notice. The Government has put in place an emergency order under the Quarantine Act, it applies to all travellers arriving in Canada. People entering the country must go into obligatory quarantine (self-isolate) for 14 days.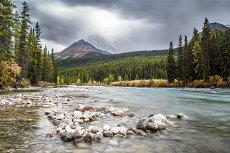 Want to commune with nature and enjoy the wilderness, vast landscapes, unique national parks and the proximity to big cities? Then Canada is the right place for you! As
the second largest country on earth
your possibilities to discover myriad sights and sounds are almost limitless. About 70 percent of the country consists of natural areas, mountain regions or primeval forests. This corresponds to a quarter of the world's remaining
wilderness areas
.
Wood Buffalo National Park is the largest of the country with some 17,000 square miles and houses the largest population of wild bison worldwide, as well as many endangered animal species. In addition to the beauty of nature, our neighbor to the north is also characterized by its architecturally valuable and modern large cities such as Toronto, Québec, Montreal and Calgary. Ottawa is the capital and also the city with the highest standard of living in the country. The best time to travel to Canada is late summer, when the leaves of the forests around the Great Lakes on the East Coast begin to change color in the most magnificent way and are reflected in the water: green, yellow, red to brown - a beautiful natural spectacle.
Canada can be easily and conveniently explored by bus. Greyhound offers trips in Canada and the USA. Through CheckMyBus you can see the best deals and can already plan your trip through Canada from home.
Popular bus routes in Canada
Cities with the most bus connections in Canada
More bus stations and bus stops in Canada
Canada - Even more bus trips to or from this country