The French long-distance bus provider
BlaBlaCar Bus
- a new venture of the well-known ridesharing platform
BlaBlaCar
- has been launched with its new brand (March 2021). This bus provider is not entirely new: the buses were previously operated under the BlaBlaBus and OUIBUS brand. The latter was the bus division of the French state rail company SNCF. BlaBlaCar submitted an offer for the takeover in November 2018.
Today, BlaBlaCar Bus buses run from Scotland to Italy and from Portugal to Germany. Most major European cities and several airports are connected to the BlaBlaCar Bus network. If the desired travel destination is not available, travelers can easily combine BlaBlaCar Bus journeys with BlaBlaCar rideshare offers.
BlaBlaCar Bus Tickets, Promo Codes and Discounts
Insider tips: Travel cheap with BlaBlaCar Bus thanks to its attractive online prices and continuous offers. Passengers can carry up to two pieces of hand luggage on board free of charge. Traveling with BlaBlaCar Bus is even cheaper for children up to 2 years old, they benefit from a 50% discount.
Most BlaBlaCar Bus routes are operated daily and also during public holidays. On some routes - such as the route from Hamburg to Düsseldorf - the company offers trips several times per day.
A particular advantage of traveling with BlaBlaCar Bus is that passengers can continue their journey comfortably using the carpool with BlaBlaCar should their final destination not be available. This gives you infinite travel options for you!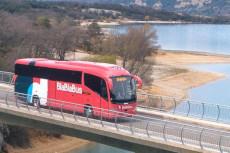 The BlaBlaCar Bus network extends from Glasgow to Gallipoli and from Lisbon to Dresden. Connections between major cities across Europe are particularly popular. Thanks to the many available routes and great service, travelers can book their next
sightseeing or shopping trip
at an affordable price.
BlaBlaCar Bus airport connections are also very popular. For example, with BlaBlaCar Bus travelers can reach the Paris and Amsterdam airports easily. Some German Airports such as Berlin Tegel are also available within the BlaBlaCar Bus network.
The most popular BlaBlaCar Bus routes in Europe
BlaBlaCar Bus uses state-of-the-art vehicles that have fewer rows of seats than normal buses; this gives travelers extra legroom. Of course, all common amenities such as air conditioning and toilets can also be found in their buses. Fast and free 4G WiFi is also available. In order to avoid your devices to run out of battery before reaching your travel destination, there are sufficient sockets and USB ports to plug your mobile phone or computer.
BlaBlaCar Bus places particular value on flexibility for travelers. All trips can be canceled or rebooked up to 30 minutes before the scheduled departure. In the event of cancellation, travelers will receive the full amount of the ticket back in the form of a voucher without deducting any cancellation fees. This voucher is valid for four months.
More information about the bus amenities and services of the bus provider BlaBlaCar Bus
free:
Restrooms

Sockets

Air-conditioning

XXL Seat

Hand luggage

Free Luggage

Seat reservation
extra charges:
In 2018, BlaBlaCar, the world's largest carpooling platform, announced that it would enter the long-distance bus market. With the takeover of the French long-distance bus operator OUIBUS from the French state rail company SNCF, they implemented their plan just one year later. BlaBlaCar started operations in June 2019 and since then has connected around 300 cities across Western Europe, including numerous destinations in Germany and France.
Its parent company BlaBlaCar has a lot of experience in the mobility sector: In Germany alone, the well-known carpool platform counts 6.5 million users. As with BlaBlaCar, BlaBlaCar Bus aims to make traveling as cheap as possible thanks to their long-distance buses. The ecological aspect is also not neglected: after all, a well-used long-distance bus is more environmentally friendly than a fully occupied car or traveling by plane.
VISA

PayPal

Direct transfer

Mastercard