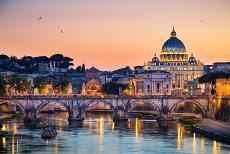 Are you planning a trip to and through Europe? Then
Italy
is the place to visit! No matter if you are looking for nature, culture or relaxation, Italy has something to suit everyone's taste. From
ancient Roman history
over the latest fashion trends on to
mouth-watering cuisine
: Italy is an
allrounder
when it comes to travel destinations!
Admire the spacious landscapes of Tuscany and experience real Italian flavor in the center of Florence or travel to Venice, to take a tour along the canals with one of the famous gondolas. In Verona you will find - among others - the balcony that set the scene for Romeo's and Juliet's tragic love story and of course, you can't miss the Leaning Tower of Pisa! Among couture lovers, obviously the fashion metropolis Milan ranks first – not only can you attend the fashion week there but the city is also home to numerous European designers, which is why a visit is highly recommended to all fashionistas. City travelers will definitely be happy with the capital Rome – it offers major attractions such as the Vatican with its unique St. Peter's Cathedral, the Spanish steps, the Trevi fountain or the Roman Colosseum dating back to ancient times. Rome is certainly not called "the Eternal City" for nothing: history and culture can be experienced in every corner of the Italian capital.
Of course, Italy is not only home to Casanova and Caesar but also to delicious culinary arts. You have the chance to have a taste of the original Neapolitan pizza and taste almost 600 different sorts of pasta from North to South. Wine lovers will also enjoy any Italian region and dessert fans can choose among tiramisu, panna cotta and Italian gelato – ice-cream in all its richest flavors. The feeling of "la dolce vita" will make you relax completely and allow you to experience beautiful Italy.
Thanks to the bus traveling to Italy is now as convenient and comfortable as never before. You can book a cheap bus ticket for trips to Rome, Milan, Naples and many other destinations in sunny Italy. Stop dreaming of Italy and book your bus trip instead! CheckmyBus will help you find the perfect bus within a few seconds! If Italy is only supposed to be one bus stop on your Euro trip, then CheckMyBus will help you to find attractive and inexpensive cross-border bus routes. Traveling from Germany or Austria to Italy is no problem at all – the bus will take you to your dream destinations!
Popular bus routes in Italy
Cities with the most bus connections in Italy
More bus stations and bus stops in Italy
Italy - Even more bus trips to or from this country