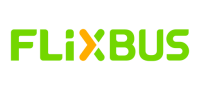 In May 2018, German bus company,
FlixBus
, opened its first connections in the United States, having already established its office in Los Angeles. Famed for its signature green buses, FlixBus is committed to offering affordable, comfortable and eco-friendly alternatives to travel. The company was founded in 2011, and is now one of the largest long-distance bus providers in Europe. FlixBus is represented by national branches, such as FlixBus Italia, FlixBus France and FlixBus Nordics.
All in all, the company has gone from an intercity bus start-up to Europe's leading bus provider, and offers routes to over 1,200 destinations in over 20 countries.
Facts about the bus company FlixBus
How many bus routes does FlixBus operate? How many cities are there in the network plan?
Ratings and Comments for FlixBus
Special Offers: Current Discounts and Coupons from FlixBus
Travel Tips:
Take advantage of
special rates
and
early bird promotions
! Children under 15 may travel at reduced rates, and keep in mind that if you want to bring your
bike
, $10.99 will be charged. One large piece of luggage is free, and another will be accepted for an additional charge of $10.Find
special offers
and current
FlixBus Promo Codes
here.
The FlixBus timetables are mainly determined by the frequency of a given route. The timetables are also created so that there are as many transfer options as possible available. Even if there is no direct connection between two stops, travelers can still reach their destination.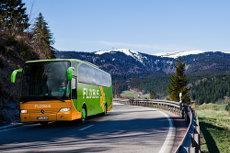 It's no surprise that the FlixBus routes which connect two major cities are particularly popular. These include, for example, the Los Angeles – San Diego and Phoenix – Las Vegas connections. Routes such as these are frequented by passengers for
city tourism, shopping trips or simply visiting friends
and relatives.
The FlixBus fleet of buses is perfectly adapted to the requirements of modern travelers. As a rule, enough sockets are available – sometimes even at each double seat. The company also offers free Wi-Fi to keep passengers entertained during long bus trips. Even appetites are tended to with snacks and drinks being available for purchase at reasonable prices on board. Should there be a delay, FlixBus will always provide up-to-date information about estimated arrival and departure times on its homepage.
More information about the bus amenities and services of the bus provider FlixBus
free:
WiFi

restrooms

power plugs

air-conditioning

extra legroom

compartments for hand-luggage

luggage transportation

delay message via SMS
extra charges:
drinks

snacks

bike storage

bulky luggage transportation
How do I find the cheapest trip with FlixBus?
You can use our search engine to find the cheapest trip from FlixBus quickly and easily. Use the filter in our search engine and find all trips from FlixBus directly, so you can also find deals, special offers and discount campaigns.
How many days in advance should I book a ticket with FlixBus?
In general, if you wait too long, you may pay more for your bus ticket. We at CheckMyBus have set the default time for booking a bus ticket to around 3 days before departure. Early bookers therefore usually save more.
How can I book my ticket for a trip with FlixBus?
Via CheckMyBus, you receive all trips from FlixBus. Have you found the right trip with FlixBus? In our search results list, click on the 'View Deal' button for the respective trip from FlixBus. You will be redirected directly to the bus provider's website. Then, you complete the booking there.
What amenities are available on FlixBus buses?
FlixBus buses have a bathroom on board, especially on longer journeys. On many buses, sockets offer the possibility to charge your cell phone. You can then use the free WiFi to inform your friends and family about the current location on some buses from FlixBus.
How can I pay for my ticket?
In addition to payment by credit card, many companies also offer instant transfer and payment via PayPal. Please note, CheckMyBus only serves as an intermediary. The payment of the ticket is made directly to the respective bus company.
How many routes does FlixBus have?
According to its bus schedules, FlixBus currently drives many travelers from A to B on over 481541 routes every day.
How many cities does the bus company FlixBus serve in total?
The current bus network of FlixBus connects 2355 cities. Our search engine is like a digital network map with current connections and stops.
How can I rate my trip with FlixBus?
You can rate your trip with FlixBus directly via CheckMyBus and share your experiences with other travelers. Rate FlixBus on a scale from 5 ***** to 1 * and tell others your opinion on a trip with FlixBus.
How far in advance can you find bus trips?
It is generally possible to check or book bus trips roughly six months in advance. If a provider only offers the route seasonally, you are welcome to contact CheckMyBus. We will then check when the next available bus leaves for you.
How can I cancel my bus ticket with FlixBus?
In order to cancel the bus ticket, we ask you to contact FlixBus directly. CheckMyBus is a search engine for buses and is therefore not involved in selling or booking the ticket itself.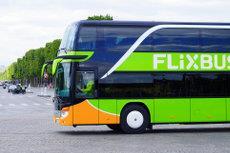 The company, now known as FlixBus, was founded in 2011 under the name
GoBus
in Munich, Germany. The operator took on its final name in early 2013 and, because of the long-distance bus liberalization, launched
four daily connections in southern Germany in February of the same year
.
Due to the high demand for a cheap travel alternative, the FlixBus network was able to quickly expand its stops and routes. By January 2015, FlixBus and its largest German competitor, MeinFernbus, announced their intention to merge. Initially, the companies operated under the brand "MeinFernbus FlixBus," but in May 2016, they opted to use the easier to understand name "FlixBus." In terms of the design of the buses, it was decided to use the signature green coloring of MeinFernbus to emphasize the ecological aspect of long-distance bus travel.
In the following months and years, FlixBus continued to grow. This is partly due to the development of new international markets as well as the acquisition of numerous competitors. In 2016, FlixBus took over all continental connections of the British bus company, megabus. That same year Postbus, an association of Deutsche Post and the automobile club ADAC was also taken over. With the founding of FlixTrain GmbH, FlixBus decided to try its hand at the rail market by distributing tickets for the German long-distance train startup Locomore as well as the Austrian WESTbahn
Today, FlixBus is present in more than 20 European countries, employs over 1000 people and welcomes around 40 million passengers a year – and the number is still growing.
In 2018, FlixBus looked beyond Europe, and made its first overseas expansion when a small team set up an office in Los Angeles. By May that year, the company opened its first routes throughout the southwestern region of the country, and plans to continue to expand its network throughout the USA.
VISA

JCB

Apple Pay

PayPal

Discover

American Express

Diners Club International

Google Pay
Reschedule for free

Cancellation policy can vary
The CheckMyBus App
Free Download