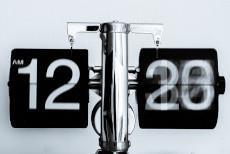 No matter what type of trip you're planning, the CheckMyBus search engine helps you compare bus routes from companies throughout the United States in cities from sea to shining sea.
When starting out your journey, the most important step is to make sure you catch your bus on time. CheckMyBus lets you compare bus times from multiple bus operators so that you're more likely to find a bus when you need it. Bus connections are displayed in their local timezones, so you can be sure that you'll be on time whether you're on the east coast, west coast or on the other side of the world. You can find bus connections for a particular route, to a specific city or by a bus company for whatever best fits your travel needs.
Find Buses to Cities Throughout the USA
How do I find out when buses are running?
You're planning a trip and aren't sure when the buses are running? With the our search engine, you can find all available buses for any route on a given date. What's better is that you can sort the search results by
time of departure
for a complete timetable across all
bus
companies that day. All you need to do is enter your
departure city, your destination
and the
date
you'd like to travel on.
If you know exactly where you'd like to travel to and from, you can easily look at
all available times
for
bus routes in the USA
. Not only can you
filter
all the results by the departure time, but also by
price, duration
and
company
as well. This lets you consider multiple factors to choose the bus that works best for you. If there isn't a bus route that travels directly between your departure and destination cities, then the
next nearest
stations will be displayed for your consideration. You can find some of the most popular intercity bus routes in the USA below.
National City Destinations
Are you planning to travel within the USA? Then you can find bus timetables for routes travelling to cities and towns throughout the United States from a variety of bus operators. Whether you're looking to travel between two specific cities, such as New York and Boston, or want to see which cities are nearby, you can find all available connections to make planning your trip as easy as possible.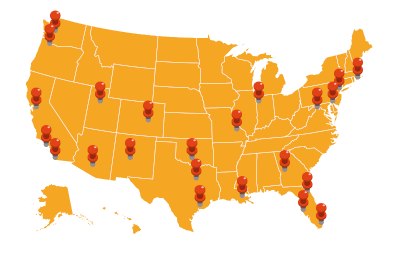 If you know which city you'd like to travel to or from, you can find bus schedules to some of the most popular destinations in the country below. While on a city page, you can find links to some of the most frequented bus routes as well as useful travel information, including nearby cities and airports as well as
affordable connections
to and from the city. You can easily find the cheapest bus connection to get to any city you want to go to.
International City Destinations
When traveling internationally, you can rely on national bus companies, such as Greyhound and megabus for cross-border connections between the USA and Mexico or Canada or travel with foreign companies, such as Primera Plus and Orléans Express. Planning a Eurotrip? Then you can choose from plenty of bus operators, such as FlixBus, OUIBUS or National Express to get the most out of your adventure. Our tip: Spend your hard earned money on the trip, not the ride!
CheckMyBus operates in more than 80 countries all over the world and cooperates with many national and regional providers. Whether you're planning a short trip overseas, have an extended business trip or are considering staying long term, you can still use our search engine to find the best deals in intercity bus travel.
Popular Destinations in Ireland
Known by many as the
Emerald Isle
,
Ireland
offers dramatic coastlines, ancient castles and a rich history with so much to see and do. Well connected by companies such as
Bus Eireann
and
Air Coach
, traveling around the country has never been easier. Below you'll find some of the most popular Irish cities.
Popular Destinations in South Africa
High mountains, breathtaking scenery, and a unique wildlife,
South Africa
offers so much to see and do. What's better is that travelling throughout the country is easy with a number of bus companies connecting major cities, such as
Eldo Coach
and
Intercape
.
Access times and schedules from bus companies from all over the world, including some of the biggest operators in the United States. Whether you're planning a domestic trip or are looking to travel by bus internationally, you can find all available bus companies to get you where you need to go.